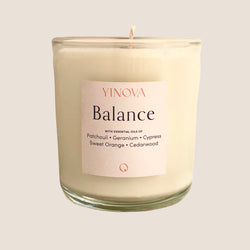 Yinova Store
Balance by Yinova
Our signature scent, "Balance," is made from a combination of botanicals specifically selected by Chinese herbalist and Yinova Founder Jill Blakeway to balance yin and yang.
Energetically, Cypress and Cedarwood encourage movement, whereas Sweet Orange, Patchouli, and Geranium are considered to be grounding. This pairing creates a balance between movement and stillness, leaving you feeling both focused and calm. 
This candle is made with soy and coconut wax and was blended for Yinova by The Village Common.