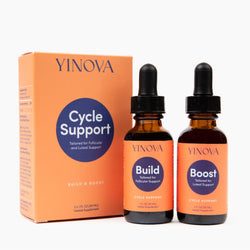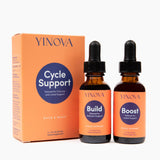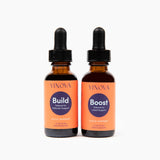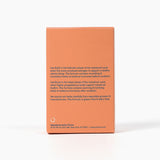 Yinova Store
Cycle Support
Cycle Support contains 2 formulas, Build and Boost, that help to balance your menstrual cycle and further support fertility. 
Build is taken for the first half of your cycle before you ovulate, the follicular phase of the menstrual cycle when the ovary produces estrogen to support a healthy uterine lining. The formula contains nourishing & circulatory herbs to balance hormones before ovulation.

Boost is taken for the second half of your menstrual cycle after you ovulate, the luteal phase of the menstrual cycle when higher progesterone levels support menstrual rhythm. The formula contains warming & tonifying herbs to balance hormones after ovulation.

We source our herbs carefully & our formulas are gluten & dairy-free.
Ingredients for Build: Dong Quai Root, Prepared Rehmannia Root, Chinese Peony Root, Sichuan Lovage Root, Eclipta Aerial Parts, Lingstrum Fruit. 
Ingredients for Boost: Asian Ginseng Root, Bai-Zhu Atractylodes Rhizome, Poria Sclerotium, Honey-Prepared Chinese Licorice Root, Fresh Ginger Rhizome, Jujube Fruit, Astragalus Root, Morinda Root, Chinese Dodder Seed. 
Suggested Use: Take 2 ml (about 3 dropperfuls) once daily; in water or as directed. Shake well before using. If you would like guidance on how to take your herbal formula, send us an email at shop@yinova.com.